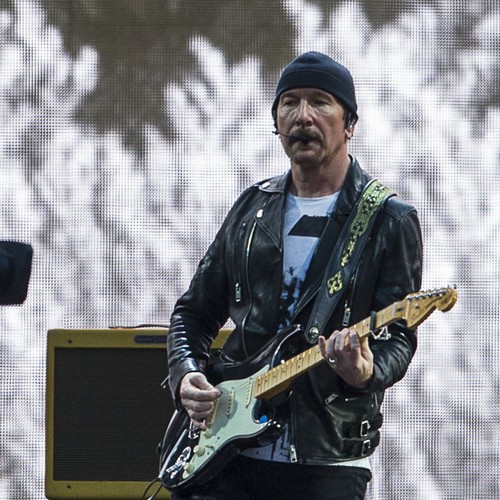 U2 have "a lot of great material in the pipeline".
Frontman Bono put a planned album called 'Songs of Ascent' on hold because he wants U2 to release a "noisy, uncompromising, unreasonable guitar album" first.
And guitarist The Edge says they've been busy working on lots of different tunes.
Asked if he's working on new ideas with the guitar, he told Guitar Player magazine: "I know the answer to that. [laughs] I've been working a lot on new guitar music, and I'm very excited about it. It's at that prototype stage where … who knows? But the answer to the question is 'yes.' I'm finding myself for the first time in a little while getting very excited about the electric guitar again. Maybe it's something to do with the lockdown, having the time to not do very much.
"For me, that was such a creative opportunity."
Asked if they would have still done the acoustic LP if it hadn't been for the COVID-19 lockdown, he replied: "We'll never know, will we? [laughs] We were due for some time off. We finished our last show in India in December of 2019. We came home, and almost immediately the world was turned upside down. That time would have been spent working on ideas and early-stage new songs. And we are."
He teased: "We have a lot of great material in the pipeline."
Bono revealed in October that the upcoming record – which the group have been teasing since 2009 – won't be their next LP because he is keen to drop a rock record first.
He told The New York Times in October: "We all make mistakes. The progressive-rock virus gets in, and we needed a vaccine. The discipline of our songwriting, the thing that made U2 – top-line melody, clear thoughts – had gone.
"With the band, I was like, this is not what we do, and we can only do that experimental stuff if we have the songwriting chops. So we went to songwriting school, and we're back and we're good! Over those two albums, 'Songs Of Innocence and Experience', our songwriting returned. Now we need to put the firepower of rock 'n' roll back.
"I don't know who is going to make our f***-off rock 'n' roll album. You almost want an AC/DC, you want Mutt Lange. The approach. The discipline. The songwriting discipline. That's what we want."
The Edge later teased that the 'One' rockers are hoping to put the album out ASAP.
Speaking to Rolling Stone, he said: "As soon as possible.
"But, of course, that's just who I am. I think Bono is of the same ilk. We're anxious and would love to get them out, but there will be a lot of options and other advice we'll be taking about when to drop some new material. But just to say, we've been busy and very inspired creating new stuff."
Read The Full Story Here: Source