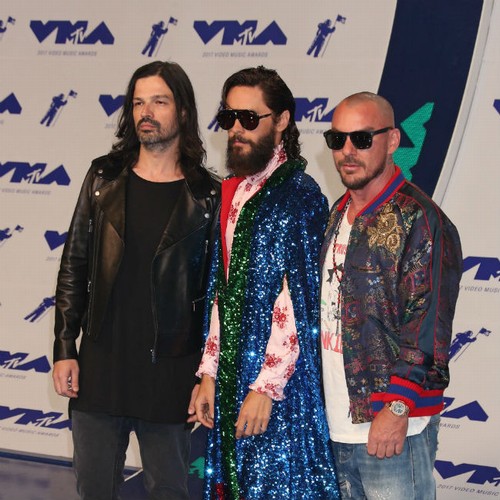 Thirty Seconds To Mars will release new album 'It's The End Of The World But It's A Beautiful Day' later this year.
The 'Stuck' rockers – who revealed their latest single on Monday (08.05.23) – have announced plans for their first LP since 2018's 'America'.
As confirmed this week, the new collection will be released in September 2023.
The band announced the exciting news alongside the video for 'Stuck', which also marks their first new material of any kind in half a decade.
Frontman Jaret Leto – who directed the video – said in a statement: "Thanks to my incredibly creative mother, my brother and I were instilled with a love for art and photography from a very young age.
"The video for STUCK, our first new song in five years, is a love letter to some of my favorite photographers.
"Artists who made a very deep impact on me like Richard Avedon, Irving Penn, Robert Mapplethorpe, Diane Arbus, Herb Ritts and more."
Jared described the promo as a "love letter to the power of movement and connection".
He added: "The video for STUCK is very much a companion piece and a continuation of a journey started with 'Up In The Air', a celebration of art, design, fashion, and the remarkable people who bring them to life.
"It is a love letter to the power of movement and connection, a testament to the awe-inspiring potential of people who don't necessarily fit so neatly in – but make the world so much more fascinating."
Before the release of 'America' – which featured the likes of Halsey and A$AP Rocky – the 'Walk on Water' hitmaker admitted it would likely be a long time before they put out another record.
He said at the time: "We're really slow at putting albums out.
"I don't mean we're never putting music out again but this may be the last album at least for a while, until I feel I need a collection of songs to say something."
'It's The End Of The World But It's A Beautiful Day' tracklist
1. 'Stuck'
2. 'Life is Beautiful'
3. 'Seasons'
4. 'Get Up Kid'
5. 'Love These Days'
6. 'World On Fire'
7. '7 to 1'
8. 'Never Not Love You'
9. 'Midnight Prayer'
10. 'Lost These Days'
11. 'Avalanche'
Read The Full Story Here: Source