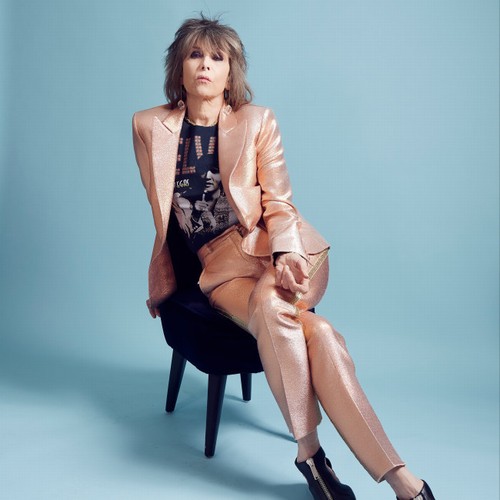 The Pretenders are back with the new single, 'Let The Sun Come In', taken from their upcoming studio album 'Relentless'.
Chrissie Hynde and co's follow-up to 2020's 'Hate for Sale' is set for release on September 1.
Speaking about the album title, Chrissie said: "I enjoy seeing the various meanings and origins of a word. And I liked the definition: "showing no abatement of intensity". It's the life of the artist. You never retire. You become relentless."
Chrissie, 71, has co-written all of the tracks with guitarist James Walbourne, 43, for the second time consecutively.
Commenting on their process, she added: "We had developed this method of working remotely and it seemed like we just kept on doing it for this album. This is something that we've honed down to an art in the last few years. He always comes up with something I wouldn't have thought of myself and I love surprises."
The album features "The Pretenders Collective", also including Kris Sonne (drums), Chris Hill (double bass), Dave Page (bass) and Carwyn Ellis (keyboards and guitars).
And Radiohead's Jonny Greenwood has composed a string arrangement and conducted the 12 Ensemble on the hair-raising closing track, 'I Think About You Daily'.
Chrissie previously teased the album last year, but admitted it was taking a while to get released.
That was before they signed a new record deal with Parlophone.
She told her fans on Instagram: "We have a new album coming out, 'Relentless'.
"For some reason, which I don't quite understand, it takes ages to get an album out these days—i.e. waiting for vinyl factories. I'm not even sure if we have a record deal. I'll have to ask my management if I remember."
Meanwhile, the band have a number of headline concerts coming up, as well as supporting Guns N' Roses in the UK and Europe, including at American Express presents BST Hyde Park on June 30.
Head to thepretenders.com to pre-order the album and see the band's full tour schedule.
'Relentless' track-listing:
1. 'Losing My Sense Of Taste'
2. 'A Love'
3. 'Domestic Silence'
4. 'The Copa'
5. 'Promise Of Love'
6. 'Merry Widow'
7. 'Let The Sun Come In'
8. 'Look Away'
9. 'Your House Is On Fire'
10. 'Just Let It Go'
11. 'Vainglorious'
12. 'I Think About You Daily'
Read The Full Story Here: Source