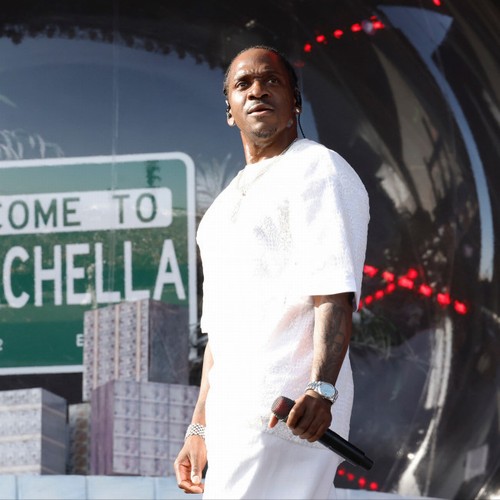 Pusha T has postponed his UK and European tour for a second time due to "production issues".
The 'Mercy' rapper was set to hit the road in support of last year's 'It's Almost Dry' album in 2022, but he was forced to postpone and reschedule the dates – and now there have been further delays.
In a statement on Instagram, he said: "Apologies to my European family, but I have to shift my European tour dates due to production issues.
"After the overwhelming demand and sellouts it breaks my heart.
"We can't deliver the show we envisioned within the original timeframe, and you all deserve the full 'It's Almost Dry' experience."
He has since shared new dates – but no venues – with the run kicking off on May 27 in Brussels, Belgium and continuing into June with shows in cities like Barcelona, Paris and Madrid.
In August, he'll play shows in London, Manchester, Birming and Brisol, while also hitting the likes of Oslo, Norway, Gothenburg, Sweden, two nights in Amsterdamn, Netherlands and more.
The tour had been originally set to kick off on November 30 in Zurich, Germany.
Just days earlier, concert promoter MCD Productions announced the delay, which they also blamed on "production issues".
They said on social media statement: "The Pusha T tour is postponed to 2023 due to production issues, as we want to bring you the best show possible. Hold on to your tickets for news of rescheduled dates ASAP."
Last year, Pusha had some serious beef with McDonald's and dropped a pair of diss tracks aimed at the fast food company.
The first was 'Spicy Fish Diss Track' in partnership with sandwich restaurant chain Arby's.
Poking fun at their fish meal, he raps: "Fillet-O-Fish is s*** and you should be disgusted, how dare you sell a square fish, asking us to trust it."
Then followed 'Rib Roast', in which he spits: "McDonald's what you selling? Mystery meat?/ Pop up and go away, what does history teach?
"Mickey D's McRib, you ain't it in the streets."
Pusha T's new UK and European tour dates
MAY 2023:
27 – Brussels, Belgium
JUNE 2023:
1 – Barcelona, Spain
2 – Aarhus, Denmark
3 – Paris, France
8 – Madrid, Spain
9 – Porto, Portugal
AUGUST 2023:
1 – London, UK
2 – Manchester, UK
4 – Katowice, Poland
7 – Birmingham, UK
8 – Bristol, UK
10 – Oslo, Norway
11 – Gothenburg, Sweden
12 – Helsinki, Finland
13 – Amsterdam, Netherlands
15 – Amsterdam, Netherlands
17 – Copenhagen, Denmark
18 – Biddinghuizen, Netherlands
Read The Full Story Here: Source