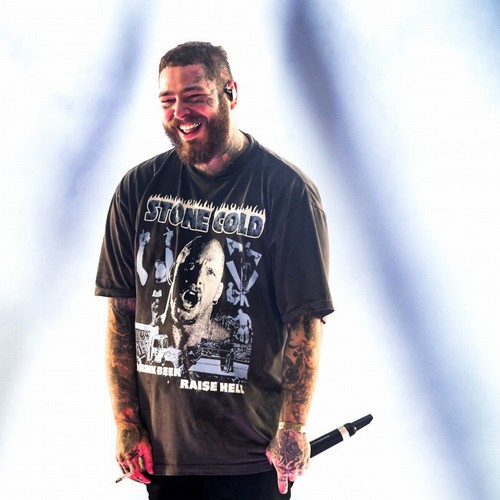 Post Malone is set to be bestowed with the Hal David Starlight Award.
The Songwriters Hall of Fame announced that the 'Circles' hitmaker will be this year's recipient of the prestigious honour at the Songwriters Hall of Fame Induction and Awards at the Marriott Marquis Hotel in New York City on June 15.
The award recognises young songwriters whose work is impacting the music industry.
Chairman, Nile Rodgers, said in a statement: "Over the last few years I have had the pleasure of watching Posty become one of the biggest artists in the world and he's done it by writing phenomenal songs.
"Way before Post Malone was a superstar, he was a great songwriter, and this is his first step into the Songwriters Hall of Fame!"
The 27-year-old megastar follows in the footsteps of the likes of Lil Nas X, Halsey, Ed Sheeran, and Taylor Swift in receiving the prize.
The announcement comes after Snoop Dogg, Gloria Estefan, Electric Light Orchestra's Jeff Lynne and more were chosen for induction into the 2023 Songwriters Hall of Fame.
Sade, Teddy Riley, Glen Ballard and Liz Rose are also being honoured at the induction ceremony.
Rap icon Snoop – who is known for hits including 'Drop It Like It's Hot' and 'Gin and Juice' – follows in the footsteps of previous hip-hop inductees Missy Elliott and Jay-Z in being recognised for their songwriting.
Estefan is known for the classics 'Rhythm Is Gonna Get You' and 'Let's Get Loud', while ELO star Lynne penned timeless classics such as 'Mr. Blue Sky' and 'Evil Woman' and 'Hold On Tight'.
Nile said: "The music industry does not exist without songwriters delivering great songs first. Without them there is no recorded music, no concert business, no merch.
"The 2023 slate represents not just iconic songs but also diversity and unity across genres, ethnicity and gender, songwriters who have enriched our lives and, in their time, literally transformed music and the lives of billions of listeners all over the world."
Read The Full Story Here: Source