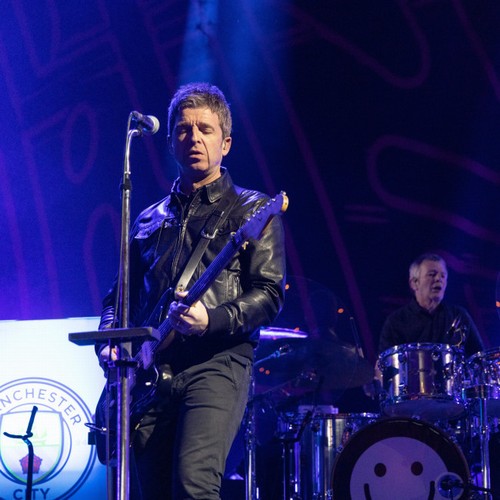 Noel Gallagher has teased that "not one song" is "stylistically" the same on his upcoming album.
The former Oasis guitarist has revealed that 'Council Skies' is his first High Flying Birds record that features his "actual" live band, and although it's "very eclectic", it's not as "far out" as his experimental psychedelic rock effort, 'Who Built The Moon?'.
In a cover interview with the Mancunian, he said: "This is the first album which my actual band all played on, because usually I would do it all myself.
"When you eventually get to hear it, it's very eclectic. It's not as far out as [2017's] 'Who Built The Moon?', but there's a run of the first 6 or 7 songs, not one song that follows the other is the same stylistically."
As for the lyrical content, the 55-year-old rocker – who is going through a divorce from his second wife, Sara MacDonald, after 22 years together – says it's a very "reflective album".
He shared: "If you can put yourself back into that period, we didn't really know what the future was going to be because none of us had lived through a pandemic before. We were kind of stood, looking at the skies going 'What the f***? What is the next few years gonna be like?' […] I was just reflecting on how I'd got to where I'd got to and I had a lot of time to sit and think about it. It's a reflective album, more than anything."
Noel – who has sons Donovan, 15, and Sonny, 12, with Sara, and 23-year-old daughter Anais Gallagher with first wife Meg Mathews – is set to return to his home city of Manchester to perform a massive outdoor gig at Wythenshawe Park on August 26, which couldn't be more fitting, as it's in the middle of the largest council estate.
He told the publication: "My promoters were saying that they were thinking of doing this regular thing in Wythenshawe Park, and this is before they knew anything about the album. Ironically, this is gonna be my first British gig promoting an album called 'Council Skies', in the middle of the biggest council estate in Europe. It just all fell into place which is f****** magical."
'Council Skies' is released on June 2.
Read The Full Story Here: Source