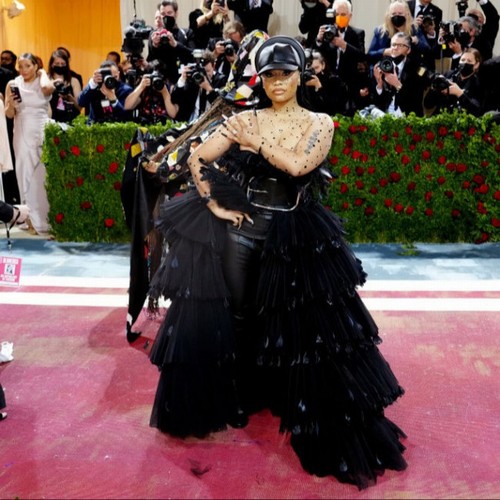 Nicki Minaj has declared that her fifth studio album will be "the best thing to come out of 2023."
The 40-year-old rapper has promised fans her follow-up to 2018's 'Queen' will arrive before the end of the year, while she's also teased a tour.
Setting expectations high, she tweeted this week: "Oh yes fractions warned, SFG did what fractions warned. Red Ruby Da Sleeze MOTHERED so hard and is now the standard. NM5 is the best thing that will come out of 2023 and will raise the bar to new and unreachable heights. NM5 tour will be hailed as "genius". That's it and that's all. (sic)"
The 'Anaconda' hitmaker is not afraid to shower herself with praise and also tweeted earlier this week: "Imagine being a fashion icon b4 your debut album. Imagine performing with Ye and Jay in Yankee Stadium, no album out, imagine Drake, Eminem, Rihanna, Ye, WillIAm, and Natasha Bedingfield on your FIRST ALBUM. bwahahaha I have to laugh. Blessings and gratitude to my supporters. NM5 is [pinched fingers emoji]. (sic)"
This year, the star has released the tracks 'Red Ruby da Sleeze' and 'Princess Diana' with viral sensation Ice Spice.
The 'Super Freaky Girl' hitmaker has been teasing her fifth album for a long time now.
In November, she claimed the record was coming "soon".
Nicki kept coy on any firm details about the LP but she gave a vague timeline for its release.
Asked what projects she had on the horizon, she told i-D Magazine: "The fifth album. I'm not gonna say when it's gonna come out, but the album will be out soon."
Nicki also noted that being in " a good place" leads to her creating "the best music".
She added: "I'm in a really great place now. I feel like whenever I'm happy, I deliver the best music.
"And in order for me to deliver the best music for my album – which is coming out soon – I have to tap back into the essence of hip-hop."
The multi-talented star also revealed she is still keen to keep on with her acting career, and she will never step away from that side of her life "for too long".
She said: "Definitely. I've been speaking to a director about doing something in a movie. In terms of TV, we'll see. But I love acting, and I'll never abandon acting for too long. That's one of my biggest passions."
Read The Full Story Here: Source