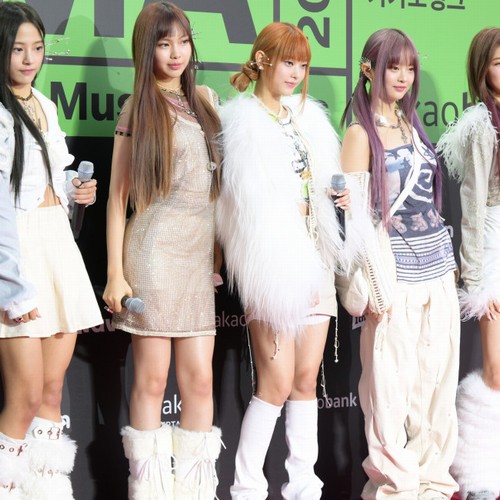 NewJeans have broken the Guinness World Record for the fastest K-pop act to reach a billion streams on Spotify.
The girl group – comprising Minji, Hanni, Danielle, Haerin and Hyein – only have six songs on the streaming platform: 'Attention', 'Hurt', 'Hype Boy', 'Cookie', 'Zero', 'Ditto', and 'OMG'.
The latter is their most-streamed hit, with a whopping 320 million streams, as of March 8.
The rising group reached the milestone in just 219 days, beating BLACKPINK star Lisa's record of 411 days from October 2022, and BTS member Jungkook's 409 days on March 27.
The news comes after the girl's label teased they will be releasing a new album this summer.
Fans of the band can expect something "new and unique" from the upcoming collection, which they finished in early April.
Min Hee-jin, their label ADOR's CEO, told Billboard: "It was actually yesterday that they finished recording for the new album that is scheduled to be released this summer.
"I wanted to break the stereotype that only certain styles of music would be able to succeed in the so-called mainstream industry.
"In the albums going forward, NewJeans will continue to strive to present something new and unique to exceed the expectations of their fans. NewJeans members keep growing and growing, and we can't wait to surprise the world again."
The album news came after the girls teamed up with Coca-Cola on their latest single 'Zero'.
Earlier this year, Danielle said fans will need to be "open-minded" with their new music.
She told NME: "I want our listeners to be open-minded to new music and have them listen to things that maybe they haven't heard before.
"You can always find what you really like by trying new things and challenging yourself."
Minji hinted that their new tunes will traverse a number of genres.
She added: "I think pulling R'n'B and hip-hop together, a little bit pop and you know, New Jersey club, mixing the genres into one song gives a more unique kind of sound.
"So to try [mix more genres] in the future, I think that would be really fun."
Read The Full Story Here: Source