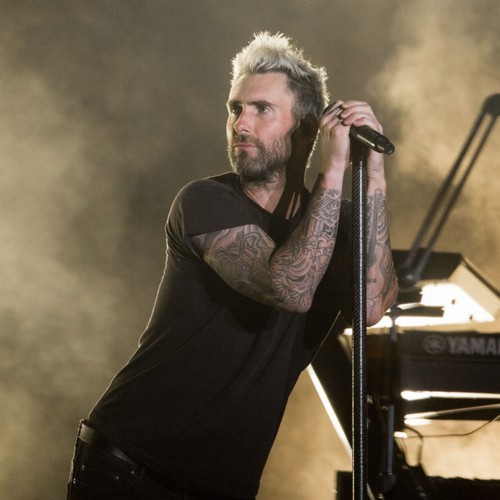 Maroon 5 will release their new single 'Middle Ground' on May 19.
Adam Levine and co are set to give the live debut of their first track since 2021 on 'The Voice' finale on May 23.
The 44-year-old frontman is a judge on the swinging-chair talent show.
The confessional lyrics include: "I need more than myself, I need light, I need life, I need what I never felt. / If It hit the ground, I'll fall down to my knees, would you hear the sound?"
The 'She Will Be Loved' hitmakers have enjoyed huge success over the years, but Adam insists there's still much more to come from the band.
The singer revealed that they have something "very, very special" in the pipeline.
Looking to the future, Adam told PEOPLE: "We have something coming that's very, very special. I think the best thing we've done in a long time. That's all I'm going to say on that."
Juice WRLD and Nipsey Hussle posthumously featured on Maroon 5's last album, 2021's 'Jordi'.
As well as the late rap stars, there were duets with H.E.R., Stevie Nicks and Jason Derulo.
Juice, who tragically passed away in December 2019 at the age of 21 after suffering a seizure, appears on 'Can't Leave You Alone', while Nipsey, who was 33 when he was fatally shot in March that year, is on a remix of 'Memories' along with Compton rapper-and-actor YG.
Fleetwood Mac legend Stevie added her iconic vocals to 'Remedy' and H.E.R. is on 'Convince Me Otherwise'.
The record – which also boasts the previously released singles 'Nobody's Love', 'Memories', and 'Beautiful Mistakes' with Megan Thee Stallion – is a tribute to the 'Sugar' hitmakers' late manager Jordan Feldstein.
Frontman Adam Levine shared on social media at the time: "We built this thing together. A piece of me will always be missing. The loss is tragic in ways I'm still learning how to cope with. All I can do is keep him with me and honor him in the best way I know how.
"I miss him every single day. And I'm proud to have etched his name into the history of this band that he helped build from the ground up…every step of the way. We love you Jordi (sic)."
Read The Full Story Here: Source