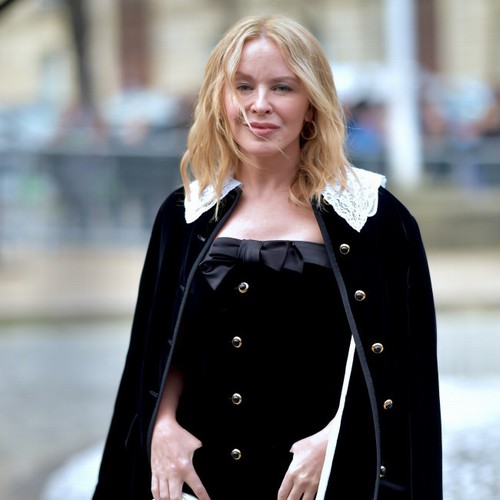 Kylie Minogue has announced her new album, 'Tension', and is set to drop the lead single 'Padam Padam' "soon".
The Australian pop idol is set to release the follow-up to 2020's 'Disco' on September 22.
Along with a preview of the new club track, she tweeted on Friday (12.05.23) afternoon: "Baby break the tension ….. my brand new album TENSION will be yours on 22nd September! The first single PADAM PADAM is coming soon! (sic)"
The clip also unveiled the 11-song track-listing.
'Tension' includes her recently released dance tune '10 Out of 10′ with DJ Oliver Heldens.
It was recently reported that Kylie is planning to drop a new song days before her birthday (28.05.23), with her first arena tour in six years also said to be part of her huge comeback.
An insider told The Sun newspaper's Bizarre column: "Kylie has finally finished the album and is now raring to go with her return to music.
"It is being kept under lock and key and hardly anyone at her record label has even heard it.
"It's classic Kylie and is sure to go down well with fans."
The 'Spinning Around' hitmaker – who is known for having explored a variety of music genres throughout her career including, pop, Indie, country, and disco – recently teased that her upcoming 16th LP will be a mixture of electro and 90s house music.
She told The Irish News: "I can't give too much away, but there's some 2000s electro, 90s house and what I like to call emoto-pop. I can't wait to share this with fans and enter the next era of music and live performance."
It was previously reported that the singer had been working with songwriter Biff Stannard, whom she collaborated with on the likes of 'Love At First Sight' and 'In Your Eyes'.
It's said she was also joined by Duck Blackwell, who has teamed up with Olly Murs and The Wanted in the past.
The track-listing for 'Tension' is:
1. 'Padam Padam'
2. 'Hold On To Now'
3. 'Things We Do For Love'
4. 'Tension'
5. 'One More Time'
6. 'You Still Get Me High'
7. 'Hands'
8. 'Green Light'
9.' Vegas High'
10. '10 Out of 10′ with Oliver Heldens
11. 'Story'
Read The Full Story Here: Source