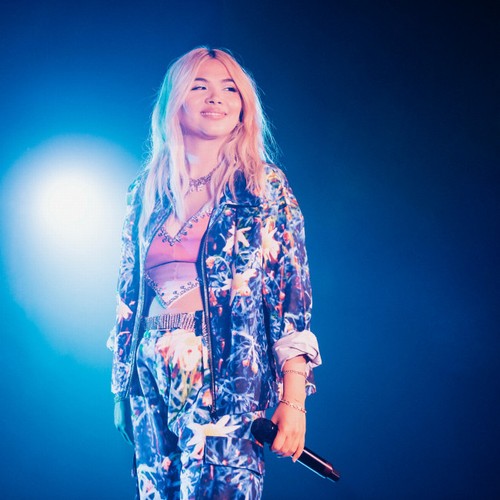 Hayley Kiyoko was threatened with legal action by an "undercover" police officer for inviting drag queens to perform on stage at her concert in Nashville, Tennessee – but vowed not to be "silenced".
The 32-year-old pop star – who is openly queer – risked getting into trouble with local law enforcement for allowing the drag stars to be part of her concert earlier this week.
She shared on Instagram: "The past 48 hours have been an emotional rollercoaster to say the least. Our day off in Nashville we went to a drag show at @playnashville and I had the honor of being brought on stage. We then planned to have some fabulous queens join us during my show the next day.
"At soundcheck the day of, I was advised by local law enforcement that having a drag performance at my all ages show could result in legal action. They warned us to not bring any drag performers on stage. I was shattered as you can see in the videos I recorded reacting to the situation in real time before the show started.
"I never want to put anyone in a position to be at risk or in danger in any way. But also where is the line of being silenced? How do we navigate these absurd threats and laws against our community? I find pride in making sure my concerts are safe places for ALL. How can I do that if we aren't allowed to be ourselves, especially at a predominantly queer concert? We deserve to have a safe space to be ourselves while we navigate the evil that is threatening our own existence."
The drag queens showed "no fear" as they agreed to perform despite the state's recently passed anti-drag bill.
It prohibits adult cabaret from performing on public property and other places where minors could be present, and it includes "male or female impersonators" under the banner of "adult cabaret."
Violators would face a fine of up to $1,000, and up to two years in prison.
Hayley added: "When the queens arrived it was about 10 minutes before the show. I was distraught and let them know what was communicated to us and our concerns. They showed no fear and said they wanted to continue with the show and come out on stage. So they did.
"Thank you @theladylibertea and @jivy85 for joining us last night. You looked radiant and truly inspire me."
She vowed: "We will not be silenced. We will find ways to continue to be our authentic selves, no matter what. We will not give up.
No matter how hard they make it. I love you all so much."
Just two weeks ago, megastar Lizzo brought out drag performers at her Tennessee concert in protest of the anti-LGBTQIA+ bill.
The Grammy winner was advised by fans on social media to cancel any concerts she has planned in the state, but she instead chose to show her solidarity with the drag community in a bold way when she brought 'The Special Tour' to Knoxville on April 21.
She told the audience: "In light of recent and tragic events and current events, I was told by people on the internet, 'cancel your shows in Tennessee,' 'don't go to Tennessee'.
"Their reason was valid, but why would I not come to the people who need to hear this message the most?
"Why would I not create a safe space in Tennessee where we can celebrate drag entertainers and celebrate our differences?"
The 'Truth Hurts' hitmaker was joined by 19 drag queens, including 'RuPaul's Drag Race' alums Aquaria, Asia O'Hara, Kandy Muse and Vanessa Vanji Matteo, as well as local queens.
Read The Full Story Here: Source