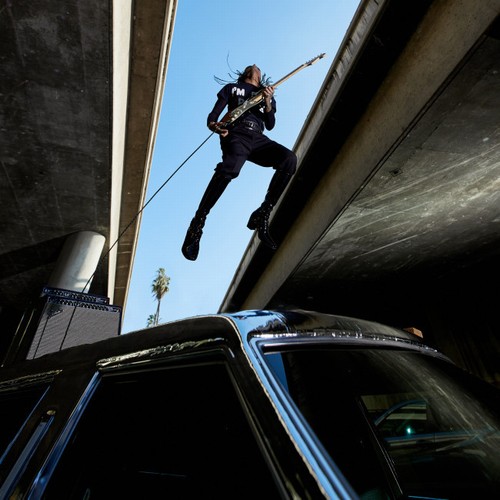 Steve Lacy has been honoured with his own Fender Signature Stratocaster guitar – dubbed The People Pleaser.
The 24-year-old guitarist – who shot to fame as a member of the alt R'n'B band The Internet in 2015 – admits it's a "full-circle moment" as his first-ever guitar was a Fender Squier Strat.
The music and style icon – who has worked with the likes of Kendrick Lamar, J. Cole, Solange, and Vampire Weekend – commented: "This guitar means so much to me. It's a full-circle moment. My first guitar was a Squier Strat. It was the box set that came with an amp, case, quarter inch-the whole 9. Now I have my very own Fender Stratocaster guitar. The People Pleaser Strat, in a nutshell, is my dream guitar as a kid when I first started playing and my dream guitar as the guitarist I am today. An ode to the old classic design that Fender is known for with all the new specs that make a guitar feel like home. I hope everyone gets to experience the feeling of this guitar. I'm excited to see what people make with it."
Steve unveiled the signature guitar by jumping through a limousine sunroof dressed head-to-toe in YSL in Los Angeles.
As per a press release, the instrument is "named for Steve's trendsetting reputation, crowd-pleasing sounds, and innovative stage looks, was designed for tastemakers, cultural influencers, and bold players who crave soulful, R'n'B tones, outrageous singing solo sounds and everything in-between, like Steve himself. Known for his musical influence, street style, and notable brand partnerships with couture leaders in the industry such as Gucci and Louis Vuitton, the new model from Fender showcases Steve's evolution from a hungry local Compton musician into an international chart-topping artist and guitarist."
It boasts Player Plus Noiseless Pickups and Custom Steve Lacy Chaos Fuzz Circuit Voiced for Howling Sustain, Soaring Psychedelic Leads, and Roaring Riffs.
Evan Jones, the Chief Marketing Officer at FMIC, added: "Steve's unique sound and style have distinguished him as one of the leading artists of the new generation, who keep the guitar's role in music and culture exciting and relevant.
"Inspired by Steve, the 'People Pleaser' Stratocaster is designed to captivate audiences and appeal to guitarists seeking a unique instrument that stands out in their collection."
The guitar is priced at £1,299.00. Head to Fender.com for more information.
Read The Full Story Here: Source