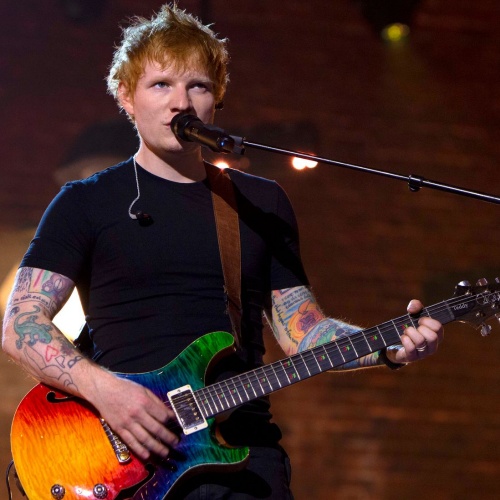 Ed Sheeran extends his flawless run of chart-topping albums as – (Subtract) debuts at Number 1 on the Official Albums Chart.
The singer-songwriter's sixth studio album becomes the fastest-selling album of 2023 so far, shifting a mammoth 76,000 chart units in its opening week, with 71% of its total made up of physical copies and a further 10% on digital downloads. It's also the best-selling vinyl album of the week.
Subtract also sees Ed edge ahead of The 1975 in the list of acts to have reached the summit with all of their studio albums, now boasting six to the latter's five. Prior to this, Ed celebrated Number 1 success with + (2011), x (2014), ÷ (2017), No. 6 Collaborations Project (2019) and = (2021).
Elsewhere, Nines' Crop Circle 2 holds steady for a second week (2), as Manchester rapper TUNDE claims his first-ever Top 10 album with debut First Lap (4). Former Kasabian frontman Tom Meighan also secures a first solo Top 40 LP with his first studio release The Reckoning (17).
Post Malone sees The Diamond Collection leap 11 places to a brand new peak of Number 15, as he kicks off the UK and Ireland leg of his Twelve Carat Tour, including two nights at London's O2 Arena.
Following the much-anticipated announcement she's to release a fully re-recorded Speak Now (Taylor's Version) album this July, the original iteration of Taylor Swift's third studio album Speak Now rebounds into the Top 40 for the first time in 13 years today. The LP is up 54 places to Number 23 this week, with the record having originally peaked at Number 6 upon its release in 2010. In total, Taylor sees six of her albums enjoy a position in this week's Top 40.
Three-piece Northern Irish rock outfit Therapy? – comprising Andy Cairns, Michael McKeegan and Neil Cooper – celebrate their sixth Top 40 album and highest-charting in 25 years with Hard Cold Fire (29). See where every Therapy? song and album charted in the UK here. Hard Cold Fire also claims a Top 5 spot on this week's Official Record Store Chart (2).
Finally, following her show-stopping performance at last weekend's Coronation Concert in honour of King Charles III, Katy Perry's 2010 record Teenage Dream makes a return to the Top 40 for the first time in a decade at Number 38.
Read The Full Story Here: Source