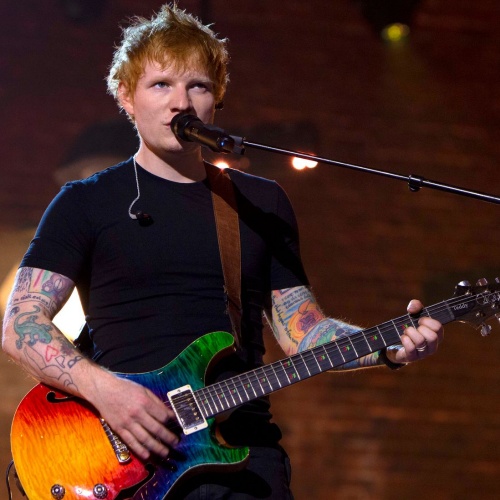 Ahead of his performance to kick off the second season of Apple Music Live, global superstar Ed Sheeran sits down with Apple Music's Matt Wilkinson in London for a wide-ranging conversation to preview the intimate set. He tells Apple Music why he's excited to play his new album '-' in full for the first time and shares: "I think it's probably be one of the best shows I've ever played for so many reasons". He also discusses pre-show nerves, feeling most at home on-stage and in the studio, parenting on the road, why he doesn't drink before shows anymore, and touches on collaborating with The National's Aaron Dessner on the project, who joins him on-stage and makes an appearance in the interview.
Ed Sheeran on Why He's Excited About His Apple Music Live Performance and Graduating "Into Being an Actual a Singer-Songwriter"…
I'm really excited. I think it's going to be a really beautiful night. I think it'll probably be one of the best shows I've ever played for so many reasons. I feel like I've graduated into being an actual singer-songwriter. I've been part singer-songwriter, part pop star for the last 10 years, 11 years or whatever. And that's by design. I really enjoy playing songs like Bad Habits. I really enjoy playing songs like Shape of You and Perfect, and stuff like that. But this record has come at the right time in my personal life, but also my professional life. I think I've earned the right to seat people, take away their phones and say, "Listen to a whole record."
Ed Sheeran and Aaron Dessner Tell Apple Music About The Experience of Working Together on '-'…
Ed: I mean, it's totally different to any way that I've worked before. He comes with a finished product and goes, "Write what you feel." And there's no like, "Oh, that line sounds a bit weird," or this. It's just you write brain to page and the song's done. And then you go in and you basically form it. And if anything, we strip back more from the recordings that he sent.
Aaron: We clicked. There was like a little wildfire. When we got together, we thought we'd try a few things, and we ended up with 36 songs or something.
Ed: It was quite a fun way of working though, because we had to get two songs before lunch every day. So we'd arrive and just be like, "Right, let's make sure we nail two songs." And then we'd do in the afternoon as many as we could do. But that's the thing, so many times in the studio I go in and I go, "What do I write about? What's the first chord? What's the concept? What's this?" But if someone's just going: "Here it is," it's really easy to write a lot because you don't have to think about anything other than the melody or the lyrics. My favourite song on the album's, No Strings. And that just came from Aaron being on piano and me singing. And then we put it down and it's as if the song didn't matter. And then coming back to it's now my favourite song on the record.
Ed Sheeran on Being Nervous for His Apple Music Live Performance…
I'm really nervous tonight. I almost threw up earlier. I'm really, really nervous. Really nervous. I've never played these songs before and I have to get them perfect. This is the first time I'm playing them. It wasn't going to be filmed. This is the thing, this was just going to be a gig for fans. No… you guys were like, "We should do something special." And then we were like, "Well, we are doing this fan thing." But if it wasn't filmed, I'd just be like, whatever… I think it makes for a better experience because… I don't know how many people are coming tonight, you said 3,000. So say 3,000 people are coming tonight. There's maybe a 100,000 people that might want to watch this gig that will now tune into it. So it's good to be able to then offer it. It's not just this special one-off thing that no one will ever see again.
Ed Sheeran on Why He's Honoured To Be Performing Live with Aaron Dessner…
I'm really honoured that he's here today. It's really him giving his time. Dude, he's one of the greatest, he's one of the greatest. And he doesn't have to do this for anyone. And I'm really, really honoured that he's, one, putting his name on the line, being like, "I'm going to get my friends to play on this." But two, putting his name on the line being like, "And I'm going to play in it too." It's a big deal. I said to him at some point, "I want to play the record in full, and would you do that?" We're not going on tour. He's not committing to two years. We're doing two one-off gigs and we're going to do them really well. But yeah, it feels good.
Ed Sheeran on Feeling Most At Home on Stage or in the Studio…
We played like 139 arenas in 2017, and by the end of that you're like, "Okay, I don't know where I am." But then what do I do otherwise? I am a live performer, what do I do otherwise? I'm either in studio or I'm on stage. When I stop those two things, I get really, really unhappy because I've got no purpose. Professionally, I'm talking about. I'd say personally, obviously there's always stuff to do because I have a family and stuff. But professionally, there's nothing else I want to do. I want to make records and I want to be on stage.
Ed Sheeran on Why He Doesn't Drink Before Shows Anymore…
The last time I drank on stage, I was playing in Holborn in a bar called The Ivy Bar. And I was playing covers and they used to give me tequila shots in between the songs to get me to play longer. And I just remember hitting my loop pedal and it flipping over and being like… And then afterwards, there was a guy who was in A&R, a record label, that walked up to me and he was like, "That was really dreadful." I was like 17 and I was like, "I'm never ever, ever drinking before stage again."
Ed Sheeran on Parenting on the Road…
It's different. I always think they're having a different childhood to what I had, but then my childhood was different to what my dad had. I think that is a normal thing and you just go where your parents are. And I think it's far more important to have two loving parents actively in your life than one absent one and one… Yeah, so it works. It's obviously tough. You're moving them the whole time. But yeah, we had a lot of fun.
Ed Sheeran on Style of Live Show…
So I'm not nervous when I go on stage with the loop pedal. Because I know that if it does mess up, that's part of the show. And people would be like, "Oh, that was different to the last show. And he did this and he changed that." I've played with a loop pedal for 18 years now, I got one when I was 14. So I just know that when I mess up I can bring it back round. But with this show, some of these songs I've never played live before. I did one show at the Union Chapel with some of these, with eight songs back in November for a secret show. But songs like Vega, and Borderline, and Dusty, and Curtains, I've never ever played them. So I just want to get them spot on.
Read The Full Story Here: Source