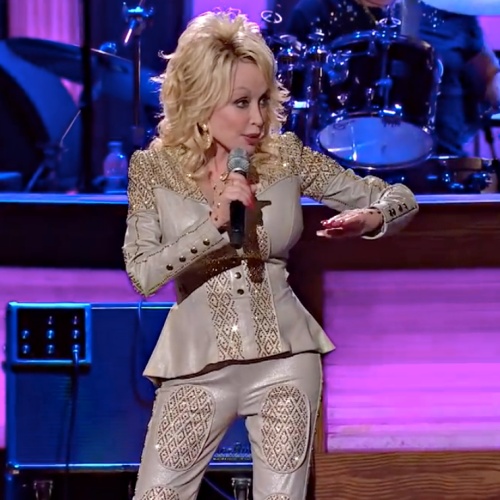 Dolly Parton has enlisted A-list stars to collaborate on her new rock album including Sir Paul McCartney and Sir Elton John.
The country queen has put together an epic 30-track record called 'Rockstar' which features 42 guest artists, nine original tracks and 21 cover versions of classics including the Beatles' ' Let It Be' which features McCartney and Sir Ringo Starr as well as Peter Frampton and Mick Fleetwood.
Dolly said of her first ever rock record: "I'm so excited to finally present my first Rock and Roll album 'Rockstar'.
"I am very honoured and privileged to have worked with some of the greatest iconic singers and musicians of all time and to be able to sing all the iconic songs throughout the album was a joy beyond measure."
On the album, she also sings 'Heart of Glass' with Blondie's Debbie Harry, 'Don't Let the Sun Go Down on Me' with Sir Elton John and The Police classic 'Every Breath You Take' with Sting.
Dolly tackles Led Zeppelin anthem 'Stairway to Heaven' with Lizzo and teams up with Pink and Brandi Carlile for a version of Rolling Stones hit '(I Can't Get No) Satisfaction'.
Dolly also sings 'Wrecking Ball' with her goddaughter Miley Cyrus and other collaborators including Stevie Nicks, Simon Le Bon, Steven Tyler, Joan Jett, Michael McDonald, Pat Benatar, Chris Stapleton and members of Lynyrd Skynyrd.
She also covers Queen's 'We Are the Champions' and Prince's 'Purple Rain' solo.
Dolly previously hinted at plans for a rock album last year when she declined a nomination to be inducted into the Rock and Roll Hall of Fame.
When turning down the induction, she said: "I don't feel that I have earned that right [to be inducted]… This has, however, inspired me to put out a hopefully great rock'n'roll album at some point in the future, which I have always wanted to do!"
Dolly later accepted the honour, saying: "It was always my belief that the Rock and Roll Hall of Fame was for the people in rock music, and I have found out lately that it's not necessarily that."
Read The Full Story Here: Source