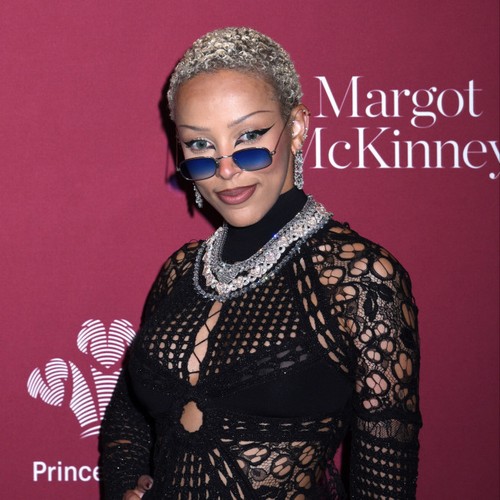 Doja Cat admits her last two albums were "cash-grabs".
The 'Kiss Me More' hitmaker – who can be known to retract her statements on Twitter – has told her 5.5 million Twitter followers she will no longer be releasing "mediocre pop" and she claimed 2021's 'Planet Her' and 2019's 'Hot Pink' were just about making a tonne of money.
Doja, 27, also went back on a previous post in which she announced her new album would be called 'Hellmouth', now claiming her next LP will be titled 'First Of All'.
She tweeted: "planet her and hot pink were cash-grabs and yall fell for it. now i can go disappear somewhere and touch grass with my loved ones on an island while yall weep for mediocre pop. (sic)"
She added: "its not called hEllMoUth either its called "First of All" and yes I'm announcing the album title right now. (sic)"
Doja recently declared she's done with pop because it's no longer "exciting".
The musician made the admission in a series of posts on Twitter in which she told her followers she plans to focus her efforts on rap in future even though she admits many of her spoken word verses are "corny".
She wrote: "No more pop … Pop isn't exciting to me anymore. I don't wanna make it."
The singer added: "I also agree with everyone who said the majority of my rap verses are mid and corny. I know they are. I wasn't trying to prove anything I just enjoy making music but I'm getting tired of hearing y'all say that I can't so I will …"
The singer went on to tease her fans by joking that her new album is gonna be a "french conceptual experimental country/bohemian fusion with the essence of blue-grass. (sic)"
She added: "Ima finish this album y'all don't worry."
Doja previously teased an entirely different project, telling Variety: "I want to explore punk. But not pop-punk. I feel like we have enough pop-punk artists right now. And if there needs to be more, then let there be more, but I don't think I'm the one to do it.
"I want to explore more of a raw, unfiltered, hardcore punk sort of thing. It's just something that I'm doing for my own personal fun – getting some drummers and guitarists together. And I don't even know if that's gonna make it out there."
Read The Full Story Here: Source