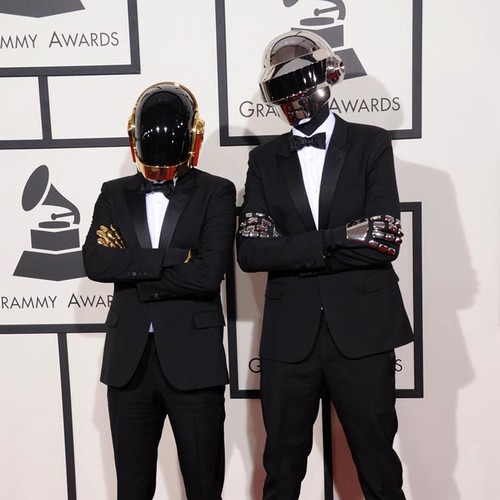 Daft Punk are set to debut a previously unheard song featuring The Strokes' Julian Casablancas.
The Parisian electronic pioneers – comprising Thomas Bangalter and Guy-Manuel de Homem-Christo – will unveil 'Infinity Repeating' at the legendary Pompidou Center in the French capital on Thursday (11.05.23).
It's from the upcoming 10th-anniversary reissue of their seminal 2013 LP 'Random Access Memories'.
Fans will be able to gain free entry to the museum for the special event between 6.30pm and 6.45pm CEST.
According to Pompidou's website, visitors can expect "an ultra-high fidelity listening experience, with a sound system composed of over 30 speakers."
The song will be accompanied by a "screening" of the music video.
Julian appeared on the song 'Instant Crush' on the original album.
So far, the 'Get Lucky' hitmakers have shared 'The Writing Of Fragments Of Time' and 'GLBTM' (Studio Outtakes)' from the reissue, which arrives in full on Friday (12.05.23).
The album – which featured Nile Rodgers and Pharrell – proved to be a critical and commercial success.
The acclaimed record took home several accolades at the 2014 Grammy Awards, including Album of the Year, Best Dance/Electronica Album, and Best Engineered Album.
The reissue comes after Thomas and Guy-Manuel announced they had parted ways after 28 years together in 2021.
The pair made the announcement in spectacular fashion via a dramatic video titled 'Epilogue'.
In the video, the French pair – who are widely considered to be one of the most influential groups of recent decades – were seen sporting their trademark space helmets and leather jackets.
During the scene, one of the group looked at the other and revealed an energy pack on their back.
Then, the other member touched a button on the pack and a big explosion happened.
The eight-minute video clip cut to an image captioned "1993-2021" – in recognition of the group's lifespan – before the scene transitioned to a setting sun.
Read The Full Story Here: Source