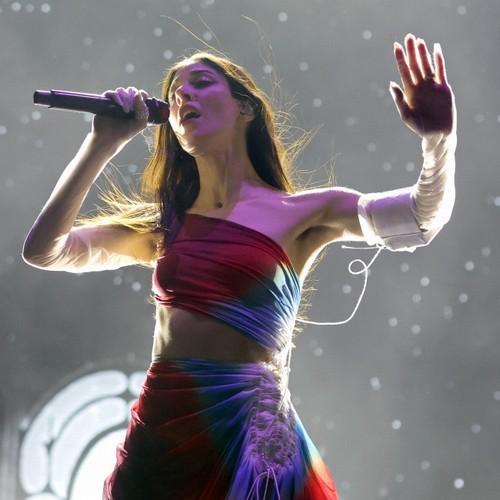 Caroline Polachek will headline this year's Wide Awake festival in London.
The 'You're So Hot You're Hurting My Feelings' hitmaker will top the bill on 27 May for this year's celebration of alternative and independent music in Brixton's Brockwell Park.
The festival boasts gender parity with its full line-up, and other acts on the bill include Shygirl, Alex G and Daniel Avery, Oneohtrix and many, many others.
Wide Awake – who pride themselves on showcasing some of the most respected, diverse and fresh acts around – labelled the acts on offer some of the most "varied and interesting" the people behind iconic London events like MOTH Club and The Shacklewell Arms have ever compiled.
Keith Miller, co-founder and booker of the festival said: "There's a feeling amongst us all at Wide Awake that the 2023 lineup is the most varied and interesting so far."
The event – which is in partnership with brands including BrewDog, Freenow and WeRoad – is an environmentally, socially conscious celebration of leftfield, post-punk, electronica and techno music as organisers are working in collaboration with the Something To Look Forward To, a charity that seeks to give fantastic experiences to young people with cancer and their families.
Wide Awake have also teamed up the anti-capitalist publication Hate Zine to hold workshops on how to be a better eco-warrior, and Rough Trade will be on-site selling their records and other merch.
In addition, the festival- which has adopted a 'Positive Policy' to ensure they leave behind a good impact on the local environment – will also feature other performances from DJs, singers and collectives, such as Andrew Devine, Arnie Wrong, Bad Vibrations, Beatfoot DJs, Dance Mums, Dani Whylie, Deptford Northern Soul Club and loads more lik, Third Man Records, Tia Cousins, Tom Ravenscroft from BBC Radio 6.
Tickets are available and can be bought at prices starting at £59.50 via https://kaboodle.wideawakelondon.co.uk/book/15559/ticket
Read The Full Story Here: Source