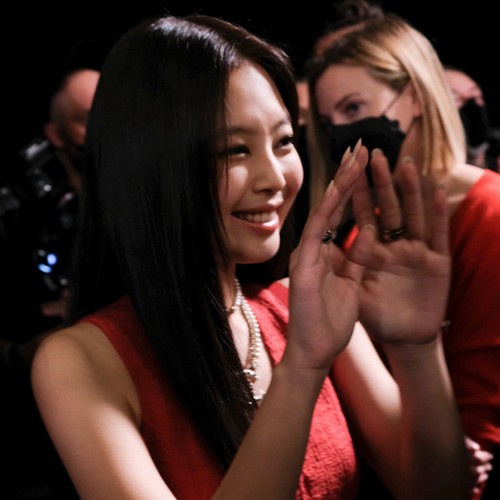 BLACKPINK star Jennie appears to have teased a collaboration with her 'The Idol' co-star The Weeknd.
The 27-year-old K-Pop star and the 33-year-old global megastar play Angel and Tedros, respectively, in the upcoming HBO drama series co-created by The Weeknd, 'Euphoria' scribe Sam Levinson and Reza Fahim.
And she has shared a snippet of the unreleased track, seemingly from 'The Idol', with vocals that sound like her and the 'Blinding Lights' hitmaker.
The preview was played during a DJ set at the launch of Jennie's capsule collection for Calvin Klein in South Korea on Wednesday (10.05.23) and appeared on TikTok.
Jennie also excited fans by sharing an article by Dazed Korea with the song clip featured.
The Weeknd has already released 'Double Fantasy' from the hotly-anticipated series, which features rapper Future.
'The Idol' – which stars Lily-Rose Depp as pop star Jocelyn – is set to premiere on June 4 on HBO.
Meanwhile, The Weeknd recently claimed he wants to "kill" his stage name and revert back to his real name.
The chart-topper is on "a cathartic path right now" and though he may move to switch between his alter ego and his birth moniker Abel Tesfaye, he ultimately thinks his next album will be the last under the name fans know him best by.
He told W magazine: "I'm going through a cathartic path right now.
"It's getting to a place and a time where I'm getting ready to close the Weeknd chapter. I'll still make music, maybe as Abel, maybe as The Weeknd. But I still want to kill the Weeknd. And I will. Eventually. I'm definitely trying to shed that skin and be reborn.
"The album I'm working on now is probably my last hurrah as the Weeknd… This is something that I have to do. As the Weeknd, I've said everything I can say."
The 'Creepin' singer also admitted he never wanted to be famous when he started his career.
He said: "I've always been the antihero. In the beginning of my career, I didn't show myself at all. I didn't want to be famous. For the first two years, no one knew what I looked like."
But when he finally appeared as The Weeknd, the star's desire to lead a low-key life hit an "obstacle" in the form of his distinctive big hair.
He said: "The hair became an obstacle for me!
"I went from 'No one knows who I am' to 'Nobody has that hair except The Weeknd.' I was always trying to hide it.
"When I finally decided to cut it, everybody said, 'Don't do it!' That gave me more reasons to do it. I was so identified with that hair that I had to cut it. I didn't want to be known for just this or just that."
Read The Full Story Here: Source