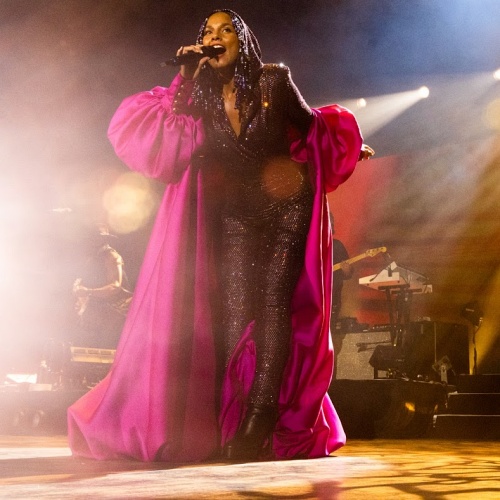 Alicia Keys has kicked off the Latin American leg of her long-awaited Alicia + Keys World Tour with a sensational performance at the Jeunesse Arena in Rio De Janeiro, Brazil, marking her six-year return to the country. After a special guest performance from Bahian Luedji Luna to open the show, the global music icon began with a moving performance of "Nat King Cole (Unlocked)" and proceeded to classics like "Fallin" and "No One" as well as newer favorites like "Girl On Fire"and more.
Singer Iza, a phenomenon in Brazil, made a special guest appearance to sing "Unthinkable", with Alicia Keys, who also sang excerpts in Portuguese from "Dona de Mim". Alicia ended the night with a killer encore composed of "Like You'll Never See Me Again" and the mega hit "If I Ain't Got You".
Next, Alicia Keys will bring the Alicia + Keys World Tour to Allianz Parque in Sao Paulo on Friday, May 5 and will make stops in Argentina, Chile and Colombia, before concluding with three nights in Mexico in Monterrey, Mexico City and Guadalajara, May 14th, 17th and 19th. Following Latin America, Keys will kick off the North America KEYS TO THE SUMMER TOUR which includes an all new, completely reimagined and redesigned concert experience and set list.
For more information on the tour and for tickets, please visit AliciaKeys.com.
ALICIA + KEYS WORLD TOUR 2023 LATIN AMERICA DATES:
Fri May 05 – Sao Paulo, Brazil – Allianz Parque
Sun May 07 – Buenos Aires, Argentina – Movistar Arena
Tue May 09 – Santiago, Chile – Movistar Arena – SOLD OUT
Thu May 11 – Bogota, Colombia – Movistar Arena – SOLD OUT
Sun May 14 – Monterrey, Mexico – Auditorio Citibanamex
Wed May 17 – Mexico City, Mexico – Auditorio Nacional
Fri May 19 – Guadalajara, Mexico – Auditorio Telmex
Read The Full Story Here: Source